The Teen Reads for 2012 - 2013 are posted. Here's the list:
Bedford, Martyn. Flip. New York: Wendy Lamb Books, 2011. ISBN: 978-0-385-73990-0
Alex is not expecting to wake up in someone else's body, and doesn't know how to convince his "new" family that he is not their son Phillip (Flip). He discovers that he and Flip have switched souls, but what happened to his original body and is there a way back home?
Condie, Ally. Matched. New York: Dutton Books, 2010. ISBN: 9780525423645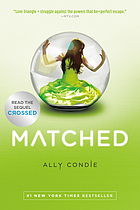 Cassia looks forward to her matching ceremony where the Society will reveal the man she will marry. Her match seems perfect until a computer error causes Cassia to question the trust she has in the Society's choice for her as well as the other aspects of life and death that are controlled by them. She now has many dangerous secrets to keep including an illegal poem and her growing love for someone other than her ideal match.
de la Pena, Matt. I Will Save You. New York: Delacorte Press, 2010. ISBN: 9780385738279
Kidd has run away from a group home and his past. He finds a job at the beach and meets rich girl Olivia. Devon has a death wish and follows Kidd to the beach; Devon's not leaving until he teaches Kidd some lessons about life, and about Olivia.
Flinn, Alex. Cloaked. New York: HarperTeen, 2011. ISBN: 978-0-06-087422-3 From being an average teenager working at his family's shoe repair shop in the South Beach area of Miami, Johnny is all pulled into a fairytale world. He meets talking animals, giants, witches, a princess, a prince, giants and the girl of his dreams. Based on several obscure fairytales, Johnny's travels take him from Miami to the Florida Keys, to Europe, and Manhattan as he tries to do what is right while he saves the day.
Grennan, Conor. Little Princes: One Man's Promise to Bring Home the Lost Children of Nepal. New York: William Morrow, 2010. ISBN: 978-0-06-193005-8
Conor Grennan takes a year-long trip around the world with plans to volunteer for three months at an orphanage in Nepal. At first he is surprised to find that he really cares about the children. Then he figures out that they are not really orphans, but instead children who have been stolen from their homes. Conor makes it his mission to reunite the children with their families.
Hautman, Pete. Blank Confession. New York: Simon & Schuster BFYR, 2010. ISBN: 9781416913276 (lib. bdg.)
Detective Rawls is going to be late for dinner. Sixteen-year-old Shane Blank has just calmly walked into the police station and said he killed someone. Shane won't get to the point though. Who? Where? So, the detective must listen as Shane tells his confession, but is that the whole story? Mikey, Shane's unusual friend, also has a suspenseful story to tell about drug dealing, bullies, the killing, and a high school superhero.
Herbach, Geoff. Stupid Fast. Naperville, IL: Sourcebooks Fire, 2011. ISBN: 978-1-40225-630-1
Felton Reinstein's sudden growth spurt transforms him from a geeky loner into a popular athlete--strong, fast and stupid. Dazed and confused, Felton is busy with hisnew friends, sports, and beautiful girlfriend. Meanwhile, his younger brother is obsessed with their father's suicide, and his mother is sliding into mental illness. Can Felton get smart in time to save his family?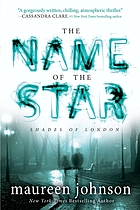 Johnson, Maureen. The Name of the Star. New York: G.P. Putnam's Sons, 2011. ISBN: 9780399256608
Rory is from rural Louisiana and is very different from her peers at their London boarding school. Her main issues include having to play field hockey and avoiding Charlotte, the head girl, until a series of gruesome murders makes headlines for copying the Jack the Ripper crimes from over a century ago. Her school is located in the middle of the Ripper's territory and Rory is only one who has seen the killer. She wants to help the police, but how do you catch a murderer who is a ghost?
King, A. S. Please Ignore Vera Dietz. New York: Alfred A. Knopf, 2010. ISBN: 9780375965869 (lib. bdg.)

Vera has kept her best friend Charlie's secrets for years; she secretly loves him. Charlie betrays Vera then dies under mysterious circumstances. Will Charlie quit haunting Vera as she tries to grow up and make the best of the mess that is her life? Will Vera share the secrets that will clear Charlie's name?
Maberry, Jonathon. Rot & Ruin. New York: Simon Simon & Schuster BFYR, 2010. ISBN: 978-1-44240-232-4
Newly apprenticed zombie hunter, Benny Imura, discovers that love and life aren't always what they seem while on an adventure with a super hot "wild" girl, the girl next door, and his loser older brother. Fighting through valleys of zoms, tracking several rogue zombie hunters, and experiencing his first kiss make Benny's first few weeks on the job unforgettable.
Matson, Morgan. Amy & Roger's Epic Detour. New York: Simon & Schuster, 2010. ISBN: 978-1-41699-065-9
After the death of her father Amy must travel to a new city. Enter Roger to do the driving. As Amy and Roger travel across the country from California to Connecticut trying to pick up the pieces of their lives, their road trip ends up being a series of detours. As they travel from place to place and meet a series of other characters they learn more about each other which leads to discovering more about themselves.
Nelson, Blake. Recovery Road. New York: Scholastic Press, 2011. ISBN: 978-0-545-10729-7
While in a rehabilitation facility for drug and alcohol abuse, Maddie meets Stewart, who is also in treatment. While there, they fall in love. Once released, Maddie tries to rebuild her life, but Stewart struggles with staying sober. In the end Maddie has to decide what she really wants from life and how Stewart fits into her plans.
Resau, Laura. The Queen of Water. New York: Delacorte Press, 2011. ISBN: 978-0-385-73897-2
When Virginia is taken from her poor farming village in Equador to work as a servant for an upper-class family, she dreams of getting an education and a new life. However, the opportunity is not what it seems, as she is treated like a slave and has to study in secret as she struggles to find her place in the world. Based on a true story.
Revis, Beth. Across the Universe. New York, Razorbill, 2011. ISBN: 9781595143976 (lib. Bdg)
Amy and her parents are cryogenically frozen for their 301-year journey on the ship Godspeed to start life on a new planet. Something goes wrong and Amy is "unplugged" early. It appears someone on the ship is trying to murder the frozens. Elder has been raised on the ship and he will one day take over leadership of the crew and the important mission of getting the frozen colonists to the new world. Amy and Elder must unravel the mystery before her parents and others are left to thaw and die.
In this dystopian society, each person is forced to join one of five factions, determined by taking a personality test. Sixteen year old Beatrice "Tris" Prior chooses the physically daring Dauntless faction, and embarks on a gruelling initiation reminiscent of "The Hunger Games." Meanwhile, Tris must keep secret that she is actually a Divergent, a misfit, who would be targeted for death by the dangerous ruling class.