One of you teens was asking me for a "nice" book to read, and I've found it! Anything by Rainbow Rowell, starting with Eleanor and Park. Her book Attachments wound up in the adult stacks, but it's just as "nice". Ever read a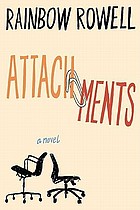 book where the people just seem so real? And hers are so likeable too.
I'm reading Attachments right now, and liking it better than Fangirl.